Prepare Your Plumbing For The Summer Heat
Summer is approaching New England fast! This week specifically, is definitely starting to feel more like summer! But summer weather can bring anything from intense heat to severe storms. This is why our team at TBros wants to help prepare your home for the upcoming summer months! Our dedicated plumbers will always tell you that it's better to prepare now than have to deal with expensive repairs later. We're here to help ensure your home's plumbing system will be ready to go this summer! We have created a summer plumbing check list below to get you ready.
Leaks can be a devastating cost if they occur and very hard to detect until it is too late. If any issues did arise from the winter weather, it's important to address them before the summer, when your water bill and usage will likely increase. Check for leaks where they are more easily detected, like the faucet, shower heads, around your toilets, and under your sinks. Any sign of moisture or pools of water could mean that you have a leak.
Over the course of a long winter, debris will pile up in your gutters. Sticks, leaves, and other debris can cause drainage issues. Taking time to clean your gutters at the start of spring can help to ensure that everything stays running smoothly. An important plumbing component to have in your home to prevent flooding is a sump pump. Interested in learning more about this? Feel free to ask TBros any questions you might have! Our team of expert plumbers know about installing one today and can answer any questions you may have. Taking care of your plumbing also includes proper drain maintenance. Keep all debris out of your drains as best you can to prevent leaking and flooding throughout your home.
The TBros team is always happy to help you fight even the toughest clog. Whether it's your garbage disposal, shower drain, sink, or something else, we can take care of the mess so you don't have to. During the summer, homeowners use more water than they think. Using more water usually means you are more likely to encounter a clog. While extremely inconvenient, most clogs can be handled with your average drain snake tool. If you are uncomfortable using a tool like this yourself, give us a call and we are happy to help. Although homeowners need to be proactive when it comes to clogs in the main sewage line. For these more involved clogs, TBros offers 24/7 emergency services to help you resolve them quickly.
Article originally published by Trethewey Brothers, Inc.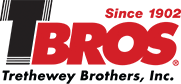 Image by wirestock.