Google has over 200 algorithms in its search engine page ranking system each with a different weighting. Fortunately, only a handful represent the vast majority of the weighting. In fact, fewer than ten account for about 80% of a page score. In this article, we will explore these top Google ranking factors that can help you climb higher in search engine results.
We have numbered the elements for ease of identification, but they are not in ranked order as Google does not disclose such granular data.
1 Domain Authority
Domain authority is a metric used by Google to determine the trustworthiness of your website. Generally, websites with higher domain authority will rank higher on search engine results pages than those with lower authority. In fact, it is not an understatement to say that a very low domain authority will ensure that you never rank even if you do well on all other factors. Improving your website's content and gaining backlinks from reputable sources can help you increase your domain authority.
Link & Authority: External links from authoritative websites can improve your website's authority. Reach out to bloggers and influencers in your niche to build relationships and gain backlinks.
Topical Authority: Topical authority refers to your website's relevance to a specific topic, industry, or niche. Creating content around your expertise, building relationships with other authoritative websites in your industry, and frequent content updates can improve your website's topical authority.
2 Content
As the saying goes "Content is King.' Excellent content is vital for your website's relevance to user queries. Ensure you create high-quality unique content tailored to your target audience's intent, using relevant keywords, proper link structure, and keeping your content up-to-date and fresh.
Quality Content: Quality content is one of the most important ranking factors when it comes to SEO. Search engines favor websites with high-quality, original content that is both informative and engaging. Make sure your content is relevant to the user's query, provides valuable information, and is well-structured and easy to read. Additionally, you should avoid keyword stuffing as this can negatively affect your rankings.
Keywords: Keywords play an important role in ranking your website, as they help search engine bots understand the content on your pages. Make sure you use relevant keywords throughout your website, including in page titles and headings. Google also takes into account the true density of your website's keywords. This refers to how frequently a keyword appears in relation to the total number of words on the page. It's important to include relevant keywords throughout your content, but be sure not to overdo it.
A free keyword research tool to find high-ranking keywords is Google Keyword Planner.
Optimized content: Quality content is essential for SEO success. Not only does it give users an enjoyable experience, but it also tells search engine bots what your website is all about. Make sure your website's content is relevant to the user's query and contains valuable information that helps them solve their problem or answer their question. Additionally, make sure your content is well-structured and easy to read.
3 Crawlability
One of the first factors you need to consider is crawlability. Google needs to be able to access and understand your website's content to determine its relevance to the user's search query. Make sure your website is crawlable by avoiding any crawl errors, ensuring that your website's structure is easy to navigate, and including a sitemap.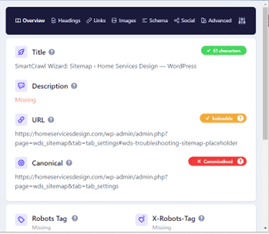 Google's Detailed SEO extension for Chrome is a handy tool to review a great many technical issues including how many of your pages are indexed and how many are not.
Don't confuse Google or your readers with difficult navigation. As a general rule, no page should be more than three deep on any menu.
Mastering Technical SEO: Boost Your Website's Performance and Visibility
4 Indexing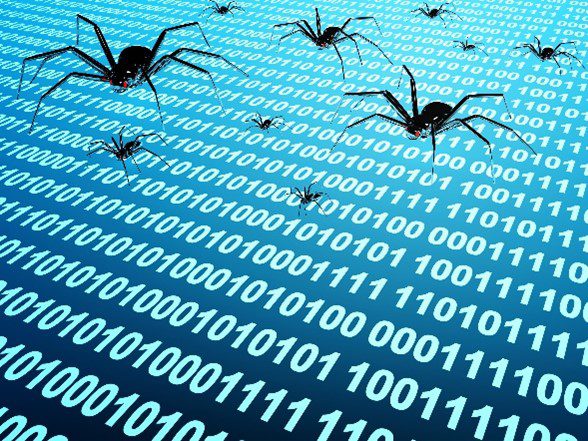 Google Spiders, also known as web crawlers or bots, are automated programs used by Google to index websites. They crawl through websites, following links and collecting data about the content on each page. The data collected is then used to determine how relevant certain pages are to a particular search query made by a user. Webmasters can use Google Search Console to view and identify any issues with the spiders crawling through their websites. This can help them improve their website's visibility on Google.
 5 Index Optimization
Index optimization refers to how well your website's content is indexed by Google. Make sure your website's pages are not blocked by robots.txt or meta tags and include relevant keywords in URLs and meta descriptions. Meta descriptions are snippets of text that appear under your website's title on the search engine results page (SERP). They give users a glimpse into what they can expect to find when they click through to your website. You should include relevant keywords in your meta description, and make sure it accurately reflects the content on the page. In addition, keep your meta descriptions to 150 characters or less.
What Is Schema and Why is it Important? 
 6 Core Web Vitals
Google Spiders also analyze the speed of your website. Core Web Vitals is a new ranking factor that Google implemented in May 2021. Core Web Vitals is a set of metrics Google uses to measure user experience on webpages. These include loading speed, interactivity, and visual stability. They are intended to give website owners an indication of how the performance of their pages affects user engagement, which is used as an additional ranking factor for SEO purposes. Optimizing your website's Core Web Vitals will help ensure that your website maintains its visibility in search engine page results (SERP).
7 Internal Link Structure
Internal links enable Google to understand the hierarchy and structure of your website's content. Internal links are hyperlinks on a website that link to another page or post within the same site. They help visitors navigate and explore your website, as well as provide search engine crawlers with the information they need to understand the structure of your website. Each page or post should have at least three internal links. Types of internal links include Navigation menus, breadcrumbs, footer links, blog posts/pages, and sitemaps. Internal linking helps to spread link equity throughout your website, which can have a positive impact on its overall ranking in search engine results pages.  Ensure that your internal link structure is consistent, relevant, and easy to navigate for both Google and your users.
Exact match anchor text is a type of linking strategy where the linked URL and anchor text are exactly the same. For example, if you link to "www.example.com" with the text "www.example.com," that would be considered an exact match anchor text link. This type of linking can be beneficial for SEO as it helps search engines understand the context of your content and associate it with the linked page. However, for this to be effective, you must ensure that each link is relevant and appropriate for the content. It's also important to limit exact match anchor text links as too many can appear suspicious to search engine crawlers and negatively affect your rankings.
To get the authoritative links that Google respects and that will count for your search rankings, you need to concentrate on obtaining contextual links (i.e., links surrounded by relevant content). Contextual backlinks are links that are placed deep within the content of a webpage, as opposed to links that may be placed in the header, footer, or sidebar. They are links that are placed within the text of a webpage and are designed to flow naturally within the content.
Contextual Backlinks: Understanding Their Importance And How To Get Them
8 Organic CTR
Organic CTR refers to how often a user clicks on your website's link when it appears in search results. Ensuring your meta descriptions and title tags are relevant, engaging, and stand out from your competitors can help increase your website's organic CTR.
Google Ranking Factors are constantly changing and evolving, so it's important to stay up-to-date with the latest changes. By optimizing your website for each of the ranking factors discussed above, you can ensure your website is visible and climbs higher in search engine results